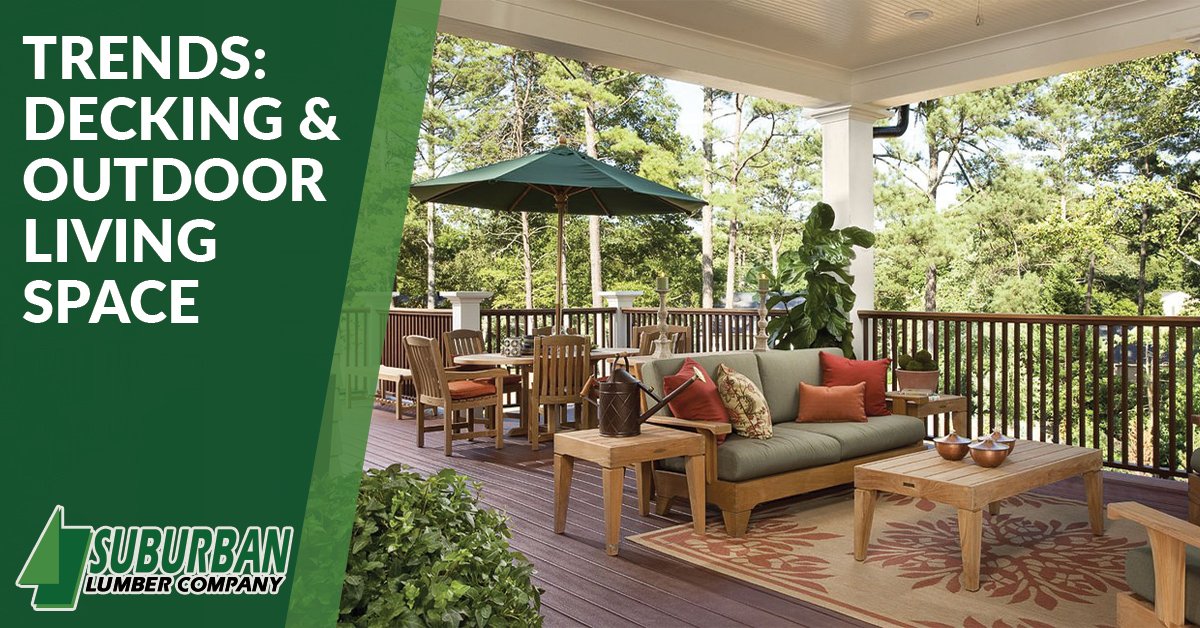 After COVID-19 turned the world upside-down, people sought out new ways and spaces to connect with friends and family. When the weather warmed this meant adding new outdoor living spaces or expanding on existing outdoor living spaces— and that trend just keeps going. As more and more people experience just how useful outdoor living spaces can be, this trend seems to have taken on a life of its own that will be around for a while.
Below are some of the shifts we've seen over the last year or two. This year is the perfect time to add value and additional living space to your home with any of these decking trends.
Big and Bigger Decks
Many new homes are built with a standard-size deck already in place. But the last year has forced people to look at expanding their existing deck to accommodate the increased use and the extra space needed. There's no one simple way to expand your current deck but we have a team of experts at Suburban who can talk through options with you, and of course, we have our network of trusted contractors that we can connect you with if you're looking for some help.
Advances in Composite Decking
With advances in technology and manufacturing, composite materials have become more user-friendly. For example, some of the new composites that don't hold as much heat as older versions. Composite decking is easier and quicker to install. But the greatest benefit is that composite decking requires almost no maintenance. The upfront cost of composite is still more than pressure-treated lumber but it's becoming more popular with homeowners who have the budget for it and who value the savings in time and labor for years down the road.
Sleeker, Simpler Railings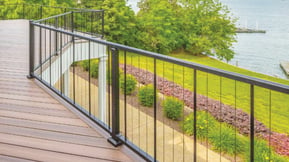 Railings are one of the most visible parts of your deck. Traditionally deck railings were made out of the same wood as the deck itself. Then we saw a trend of clean looking, but larger, PVC railings systems. The trend over the last few years has been a move toward more sleeker, less bulky railing. Customers are also searching out aluminum railings for the sleeker look but also because aluminum railings are lighter and easier to work with than other metal railings. Aluminum railings are also a favorite of those who choose composite decking as it makes for a nearly maintenance free outdoor living space.
Light It Up
As manufacturers moved to lighter, synthetic materials, this provided an opportunity to include many creative lighting options. Over time this trend continues to evolve with new placements and new styles. The design evolution took another leap with the advent of solar powered and low-wattage lighting that is perfect for outdoor living spaces. Lights are now seamlessly built into railings and stairs. Or you may wish to accent your space with rope lighting, an outdoor chandelier, or hang strings of beautiful, vintage Edison bulbs to transform your outdoor patio and deck.
Fire It Up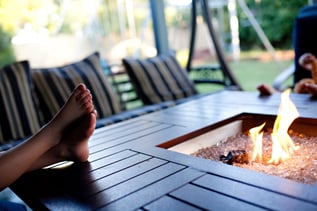 While lighting can extend your deck usage later into the evenings, there is still the issue of temperatures dropping below what is comfortable. Traditional, wood-burning fire pits are great for the yard but on your deck a rogue ember could mean serious trouble. To provide a safe, clean, and instant heating option, many people select propane-burning fire tables to compliment their space. Not only do the propane fire tables provide the warmth and ambiance of a traditional fire pit, they offer a versatile table during the warmer days that don't require a fire.
Cover It Up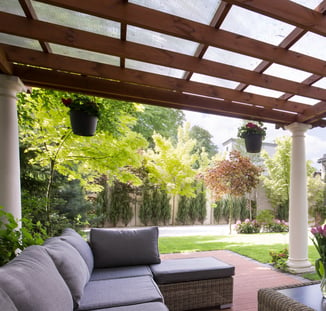 Having a roof, awning or covering can increase your time and comfort outdoors by providing cover from rain and the hot sun. You've likely seen stationary or retractable awnings that extend from the house— and those are still getting the job done. However, However, pergolas are the new trend when considering a covering for your deck. With a number of manufacturers offering "pergola kits" it's easier and quicker than ever to add a pergola to your deck. Pergolas are nice because they don't block out all the direct sunlight, they can be a great place to add lighting and/or hanging plants. The structure allows homeowners to add a canvas or synthetic covering over the top to create the same level of protection as an awning when you need it.
Entertainment Station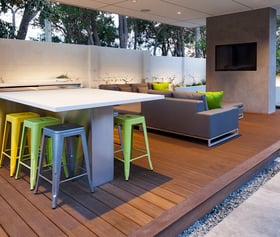 If you love your deck because it's a place where you can unplug, this might not be a trend for you. For many, technology can enhance your outdoor experience! Wireless streaming devices have landed TVs in many unique places. After a simple installation, you can enjoy outdoor movie night under the stars, video and trivia games, or a complete tailgating experience before the big game in the privacy of your own yard!
Whatever Trends You Go With, Make Them Your Own
The most important thing to remember is to create an outdoor living space that represents your style. We are here to help guide you through the process, provide literature and samples, and discuss areas of the project you many not have considered. Wherever you are in the process, if you have questions or need materials, feel free to contact us online, by phone, or stop by and see us in person.
Take the Next Step with Your Deck: