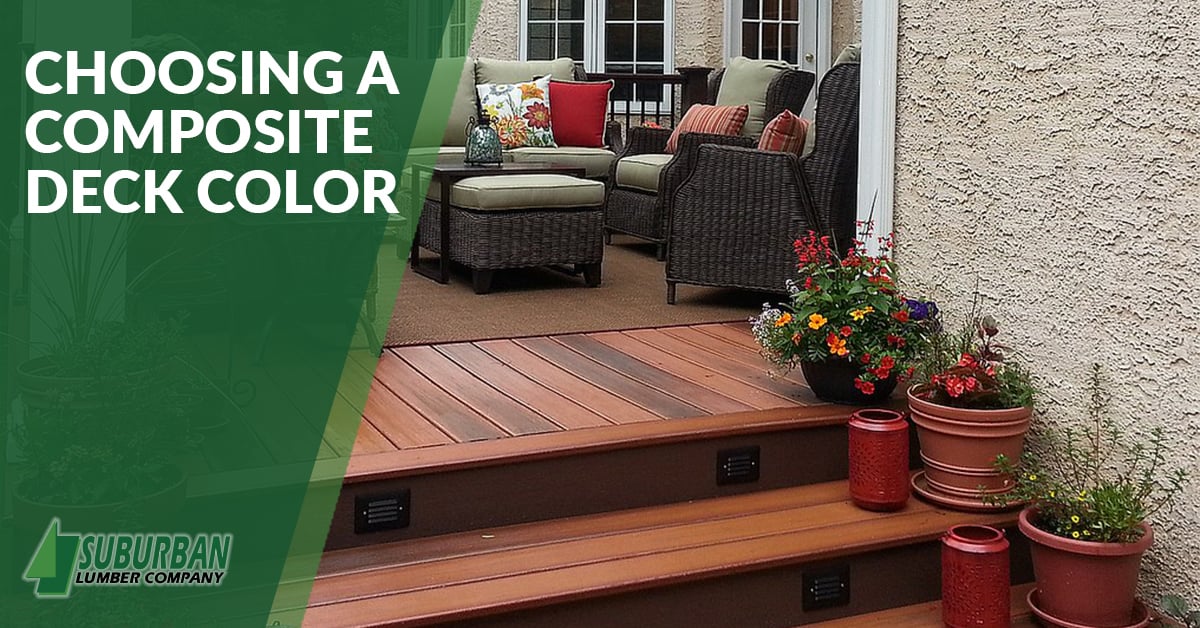 When building a deck, there are a lot of things to consider. Many of these decisions are best made with the help of decking experts who can explain your options and the benefits of each selection. But choosing the color of your composite deck is a choice that homeowners can have fun with based on their own style and the look they want to create.
While you can stain and/or paint treated lumber, composite decking is fade and stain resistant, so it will maintain its true color longer. There are plenty of reasons homeowners prefer composite decking, but being able to choose a more distinct color and have it last longer is a nice advantage.

Below are some things to consider when choosing the color of your composite decking.
START BY SELECTING A COLOR FAMILY
Most composite decking colors can be broken down into three families of color: gray, brown and red. Start by narrowing down your choices to one of these three color families.
Gray (like ash, slate, charcoal) decking often works well with white, blue, gray and red homes.
Brown (like tan, oak, cedar, hickory) decking will work with almost any home color, and tends to look like natural wood that has been stained.
Red-hued (like mahogany, redwood, walnut) decking tends to be used most for homes with exterior that have different textures and/or colors, like brick homes.
A SOLID SHADE OR TONAL VARIATIONS?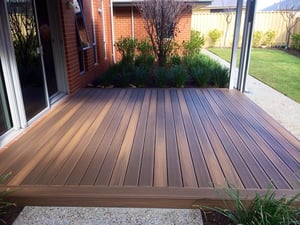 Composite decking has come a long way over the years. This not only means better performance, but it also means you can find varieties that look a lot like natural wood. If you want a look that is similar to natural wood, check out some options with tonal variations (like in the images above on the right). If you use a decking color with tonal variations, you will have to do a little more balancing when it comes to matching the color of your home, as you will have to coordinate the over and undertones. Composite decking also comes in solid shades that look more like natural wood that has been painted (like in the images above on the left).
MATCHING YOUR HOME
Even if you take care to always match your belt to your shoes, you probably don't want your deck color to be the exact same as the exterior of your home. That doesn't mean you can't choose a color from the same color family, but you will want some variation of color.
One way to match your home's color palette is to match your deck to the main color of the interior of your home. This can create a seamless feel as people move from inside your home to your deck outside. Another option would be to match your deck to something similar to the color of your roof or your home's trim. This allows your deck to work with the color scheme your home is already using.
CLIMATE CONSIDERATIONS
How much sun does your deck get? Ho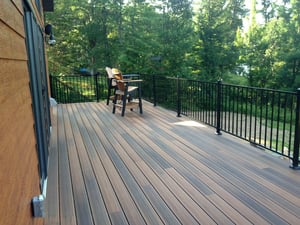 w much of the year will you use your deck? The answers to these questions can help you select a deck color that makes your deck more comfortable for more of the year. The color isn't the only element that can determine the temperature of your deck, as different materials used to make composite decking retain more heat than others, but color will still affect temperature. If your deck gets a lot of direct sun and you primarily use it during the summer when it's warm out, you may want to go with a lighter color that won't absorb and radiate as much heat. If you are using your deck more at times when there isn't much direct sunlight and want to use your deck longer throughout the year, a dark color that will absorb and radiate more heat is probably a better option.
***
Have fun with the color selection of your composite deck. There aren't any right or wrong answers when it comes to choosing a color and it's one way your deck can show off your personal style. If you want to take a look at some options in person or you want an outside opinion, feel free to give us a call at Suburban Lumber (319-362-3115) and we can setup a time for you to come in to our showroom and experience the composite decking you want before making your final decision.
More Deck Tips and Tricks: