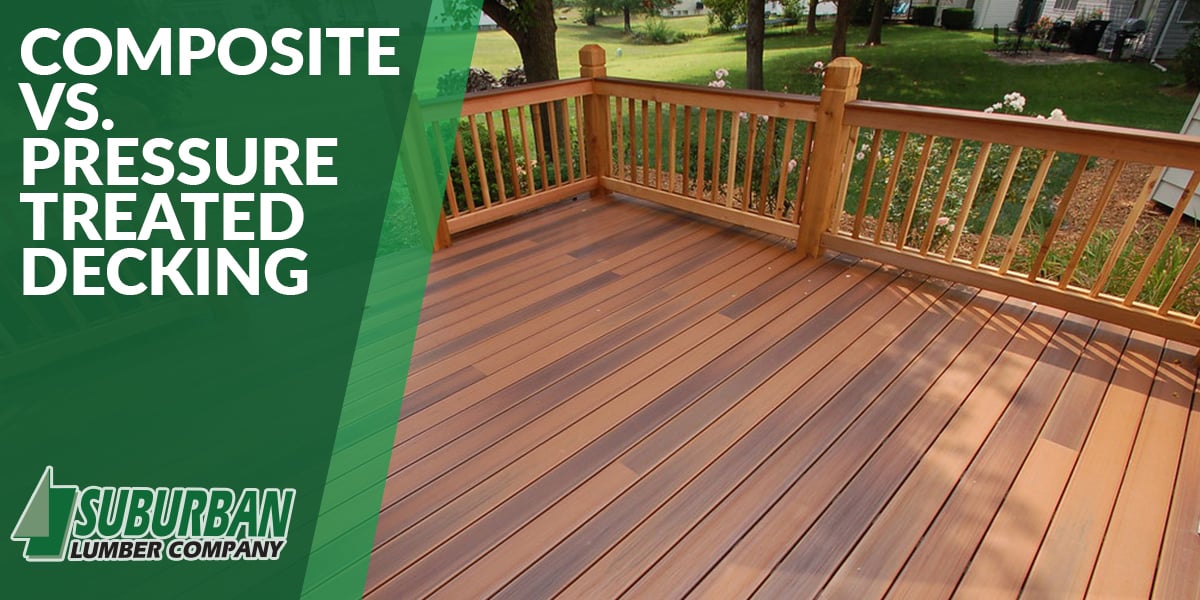 Adding a deck to your home can be a great investment— both in terms of the resale value of your home as well as creating a space to enjoy time with family and friends. For decades, pressure treated lumber was the industry standard when building decks. But as we've made advances in technology, composite decking, usually made from PVC or polyurethane, burst onto the scene and has gotten more advanced and more affordable over time. We can't tell you which type of material you should choose for your deck, but we can provide you with information to help you make an informed decision.
Cost:
"How much does it cost?" is the question we are asked the most when it comes to decking material, and it's a fair question— but the answer isn't so simple. As far as upfront cost, pressure treated lumber is going to be the least expensive. But upfront cost doesn't take into consideration the longevity of the material, the cost of repairs, or the time and energy of maintenance. When these aspects are factored in, the costs can shift quite a bit.
This is a nice description from DuraLife Decking that helps explain true cost of the different materials and how they can shift over time:
The cost of the composite decking project is essentially fixed for as long as you own the home. On the other hand, the pressure treated wood will require regular, ongoing maintenance to keep it looking great and feeling safe underfoot.
According to Tim Slamans of Slamans construction, prepping and staining the pressure treated deck mentioned above, which was a few thousand dollars less expensive upfront, will cost the homeowner an additional $700 the first year and at least that every other year thereafter. Deck building professionals also recommend that the surface of pressure treated lumber be stripped and sanded every 5 years.
Appearance:
Even just a decade ago, composite decking could look a bit artificial and "plasticky." But with advances in technology, today's composite decking looks very natural. Below is composite decking that was installed and photographed by Top Quality Carpentry. We even had to take a second look ourselves to make sure it was actually composite.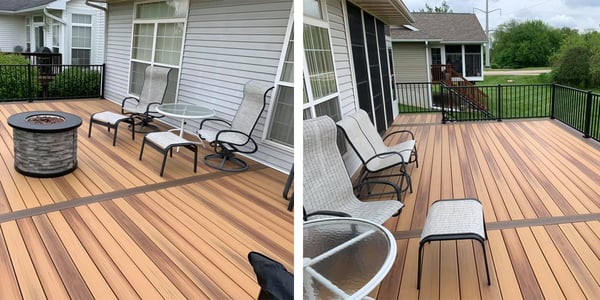 Obviously, pressure treated and stained wood is what composite decking is trying to look like, but one thing to note is that composite decking will look like the images above for years and years, while pressure treated lumber can look great for years, but it requires a fair amount of maintenance to do so.
Maintenance:
This is the area where composite decking really excels. Most of the composite decking produced today will last for decades with almost no maintenance. Moisture, rot, sun and insects are the primary enemies of your deck and before composite decking became widely available, pressure treated lumber was the best defense against these enemies. But the treatment on any natural wood breaks down from exposure to sun and moisture, which opens the door for rot and insects. Regularly staining and sealing pressure treated decks will help keep the protective treatment intact but depending on the size and age of your deck, this can be a major yearly project. Hiring someone to do this ongoing maintenance can increase the total cost of your deck, which over time can nullify the savings of going with pressure treated lumber instead of composite in the first place.
Choosing your decking materials can be a more difficult decision than you initially might have thought. When starting your deck project, it's best to visit your local lumber retailer who you can trust and who understands the local weather extremes that your future deck will be battling. Give us a call at Suburban Lumber and our decking experts can walk you through your options and help you find the right materials for a long-lasting and beautiful deck.
Want More Deck Tips? Read On!