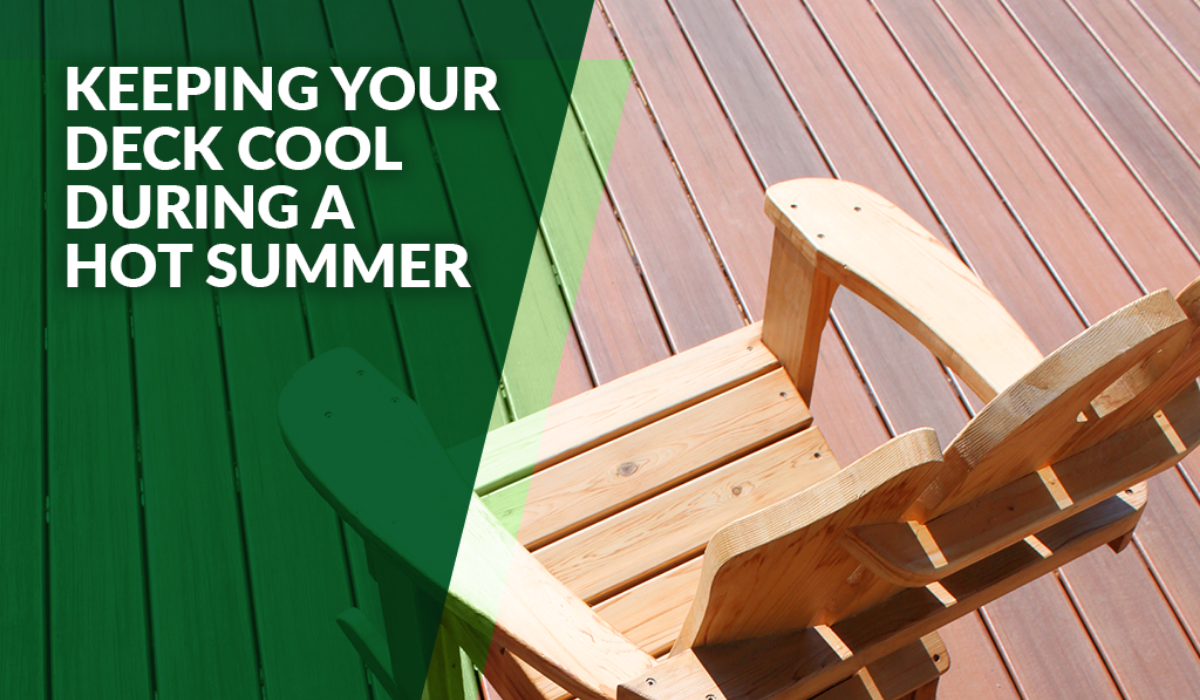 For most, the benefits of composite decking vastly outweigh the downfalls. And although its durability, ease of maintenance, and other perks have contributed to its rise in popularity over the years, we often hear one complaint during the summer: "Why is my deck so HOT?"
Composite decks often become hot when exposed to direct sunlight, especially when there are no nearby trees to provide shade. Although this can be a problem with any deck, it may not be as noticeable with lighter color decks because of their ability to more easily reflect heat. Darker color decks, on the other hand, absorb heat readily, creating what can be a scorching surface for bare feet.

Of course these issues aren't unique to composite decks. Traditional pressure-treated lumber or cedar decks (especially those that are painted or stained in darker colors) also experience these problems.
A Barefoot-Friendly Surface
A hot deck is still a usable deck, it's just not as enjoyable. Thankfully, it's easy to cool your deck and keep your outdoor space comfortable all summer long—whether you have a cushy budget or no budget at all. Here's how:
Grab Your Garden Hose
Cooling a hot deck is as easy as grabbing a hose and spraying down the surface with cold water. Just be sure to give it a few minutes to cool down before you plan to walk around barefoot.
Of course, this is only a short-term fix. To keep your deck from reheating again, try one of the following solutions:
Cover Hot Surfaces with an Outdoor Rug
An outdoor rug is much more comfortable on the feet than a hot deck. These come in a variety of shapes and sizes, giving you the ability to cover any necessary spaces while adding charm and character to your backyard. These days, most outdoor rugs are made of durable materials that hold up surprisingly well to everyday use.
We recommend adding an outdoor rug under a patio set so you can enjoy dinner, drinks and company in comfort. As a bonus, it will add an extra layer of protection, helping you avoid scratches and dings to your deck caused by heavy patio furniture. Just be sure to check with the manufacturer that the rug's backing won't damage your composite deck.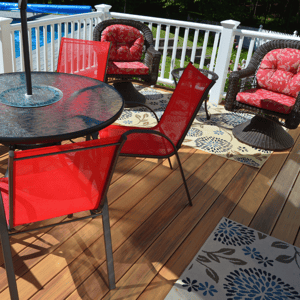 Create a Shield from the Sun with a Patio Umbrella
Speaking of patio sets, umbrellas are another perfect solution for creating a cooler deck. They add shade to small spaces, like an outdoor table, and depending on size and placement, can provide light shade to other parts of your deck as well.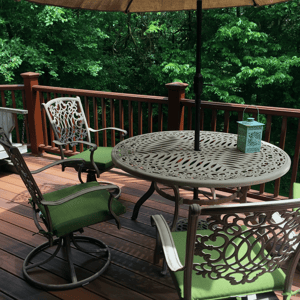 Cool Hot Feet in the Pool
Although they won't necessarily keep a deck's surface from getting too hot, a pool can be an attractive addition to your deck and provides a way to cool off if the heat gets a little too intense. It's also the perfect excuse to invite company over, and the kids get a place to splash around and play—a win-win!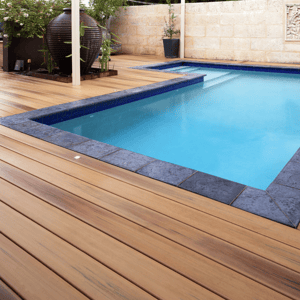 Add Shade—And Ambiance—with a Pergola
Pergolas can provide either partial or complete shade to your deck, depending on your preferences. They also allow for customization via other décor options:
Hang vines or place potted plants around the perimeter.
Drape a set of flowing curtains along the outer edges.
String light fixtures along support beams to create evening ambience.
Installing an outdoor ceiling fan to your pergola can also aid in your effort to stay cool when using your deck.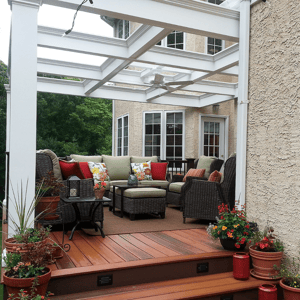 Want to install a composite deck? Let's talk about your next project. Get in touch to start planning your next renovation.