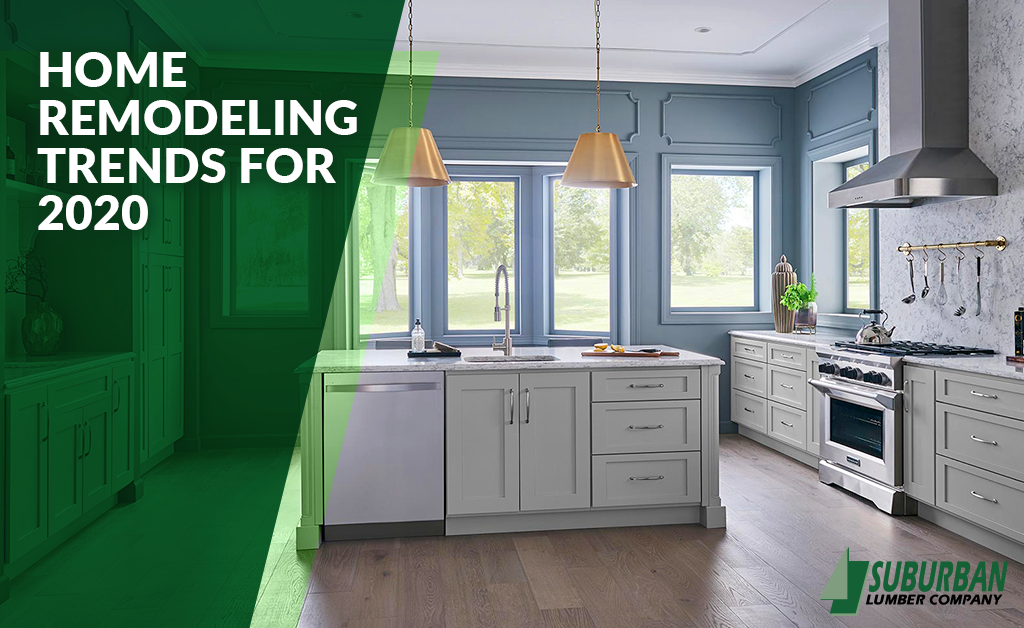 Remodeling your kitchen or bathroom can be a big project, but it can also add value to your home and help create a space you'll love for years to come. Before you think about remodeling, check out some of the 2020 home remodeling trends to help you choose the most up-to-date and valuable remodeling project for your home.
Updated Classic Style: The updated spin on the more classic design style still includes natural wood textures and colors, but with some more contemporary twists like glossy accents or finishes, stainless steal appliances, granite countertops and unique, but practical, storage solutions.
Creative and Efficient Storage: Your cabinets and closets should look great, but they also need to be useful for your daily routines. Getting custom cabinets allows homeowners to reconfigure their kitchen and/or bathroom without having to adjust the entire floor plan.
Bathroom Storage Space: The number of products and items we keep in our bathrooms is ever-expanding. Many homeowners say their bathrooms don't have enough space, but what they often mean is that their bathrooms aren't utilizing space very well. This is where adding custom cabinetry to your bathroom can help with space issues. A great addition to a custom bathroom is dedicated storage for small items like jewelry.
Super Pantry: One of the items that can produce a good rate of return is a "super pantry." These pantries are larger and can even be walk-in. Meyers Research recently found that 61% of homebuyers want a "super pantry" and are willing to pay $4,500 more for a home that has one. Upgrading is an easy choice with that sort of return on investment.
Colored Millwork and Cabinetry: All white kitchens have reigned supreme the last decade or so, but homeowners are starting to add some natural colors to their space. One of the easiest and most obvious ways to add color is with your cabinetry and millwork (base trim, crown molding, interior doors, door frames, window casing, and wood paneling). Navy has been a popular choice for adding a little color to cabinetry and millwork, but if you're not ready to make that leap, try some quieter, lighter colors that can soften the space.
Texture: If you're not wild about adding too much color, you can get some of the same effect by using texture instead. Using wood with natural woodgrains for cabinets and millwork is a great way to add subtle texture that can make your space feel more comfortable and inviting. Reclaimed barn wood has become a big part of design trends the last few years because of its weathered and unique texture.
The 5th Wall: Homeowners often forget about the ceiling when thinking of updating their homes. Adding color and/or texture to your ceiling can really up the inviting feel of a room. Some homeowners add a lighter colored paint coat to their ceilings, and others even add a white, colored or natural wood paneling to add texture and soften the room.
Two-Toned Cabinetry: Replacing some elements of your white cabinetry or millwork with a similar toned color can give a unique and interesting look, without going overboard. If you're not interested in replacing all of your cabinetry, this might be a good option for you, as you can replace some of your cabinets or just change out the doors on your cabinets with a new color. If you're not into bright colors, many people who are transitioning from all white kitchens have added in light gray cabinets or cabinet doors, so there is some contrast, but it is still subtle.
Hidden Appliances: As the number of appliances in kitchens continues to rise, homeowners are finding more creative ways to store and hid their appliances. This includes custom cabinetry that allows appliances to be easily accessible, but still hidden from view and can even go as far as a refrigerator overlay or using natural-looking materials to hide the hood above the stove.
Go Where the Pros Go:
Before you start remodeling, stop by Suburban Lumber and Cabinet Concepts to make sure you don't hit a snag in the middle of your project. We can help you understand the process from start to finish and make sure you have all the right materials to make any project a success.
Other Home Projects You Might Like:
5 Home Upgrades Worth the Investment
4 Home Upgrades That Matter to Buyers
How to Begin Your Deck Replacement Project