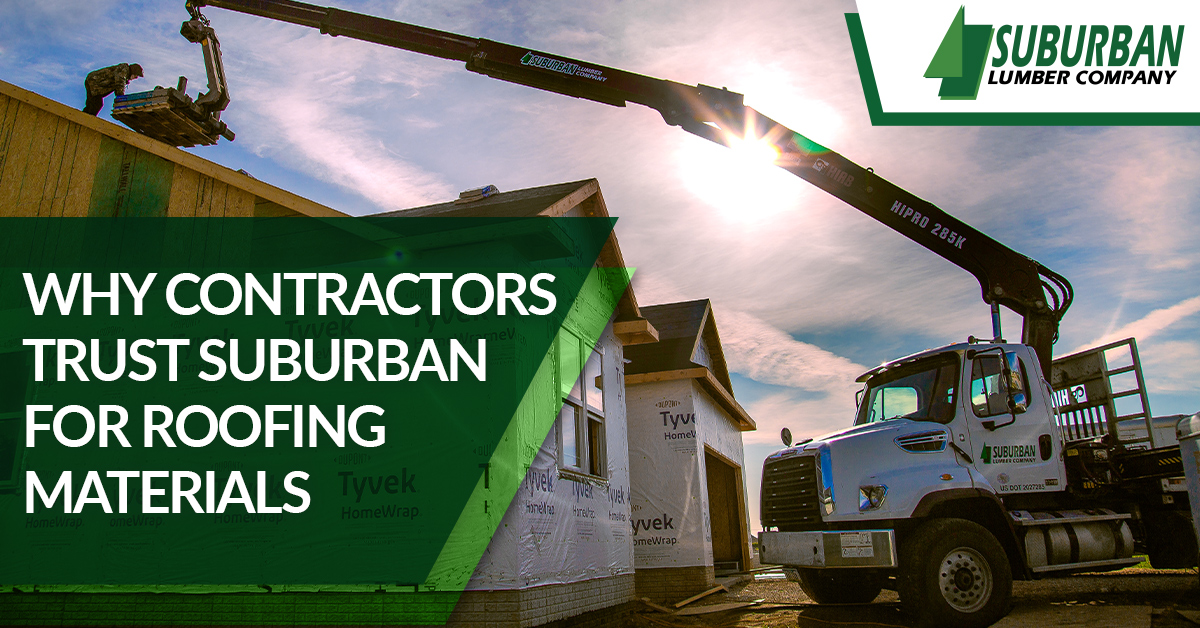 Last spring and summer building materials were already hard to come by—then we experienced a hail storm followed by the derecho, making roofing materials especially difficult to locate in the Cedar Rapids and Marion area. Our experienced purchasing team sprung into action to leverage long-standing relationships with manufacturers and suppliers to get our hands on all the materials—but especially roofing supplies—that we could. This is just a small window into why so many local contractors come to Suburban for their roofing materials. Below are some other reasons so many local contractors trust us.
Suburban Carries a Wide Variety of Roofing Materials
Contractors know that their customers want options, but too many options can be overwhelming. With our wide variety of roofing materials, contractors are able to ask their customers simple questions about their priorities and preferences and then come to Suburban and let our knowledgeable team create custom options for their project.
For contractors that work on a variety of different types of projects, it can be difficult to stay up to date on the latest trends and advances in roofing materials. But they don't have to when they work with our team of experts—they can simply explain their needs and let our team do the rest!
Suburban Offers Free Local Delivery Services—Even for Rooftop Deliveries
For contractors, it's essential to have their materials delivered to the job site on time—and for roofing jobs, rooftop delivery with a boom truck can save time and labor costs. Here at Suburban Lumber, we have our own fleet of delivery trucks and special equipment for materials handling. There's no need to pay a third party delivery company or rent equipment to get the materials onto the second floor or roof. It's as easy as selecting the necessary materials and choosing a delivery time.
Suburban Values Long-Term, Local Business Relationships
We first opened our doors in Cedar Rapids in 1958 and are still a local, family-owned and operated business over six decades later! For local contractors, being able to work with a lo cal supplier makes things easier and quicker. When contractors place an order, call to make a change to their order, or schedule a delivery to the jobsite, they know the person they're talking to. We know how valuable and unique these relationships are and we work hard to maintain them.
Suburban Carries More Than Just Roofing Materials
Most contractors that come to Suburban for roofing materials don't just stick to shingles. The fact that Suburban carries all types of building materials means contractors who are working on a variety of jobs can place one order for nearly all their materials, instead of having to work with a dozen different suppliers.
Connecting with Suburban:
Whether you're a contractor or just a homeowner working on a small project, we can get the materials you need. Give us a call, contact us online or stop in and visit our showroom to connect with our team of experts.
Other Topics You May Like: