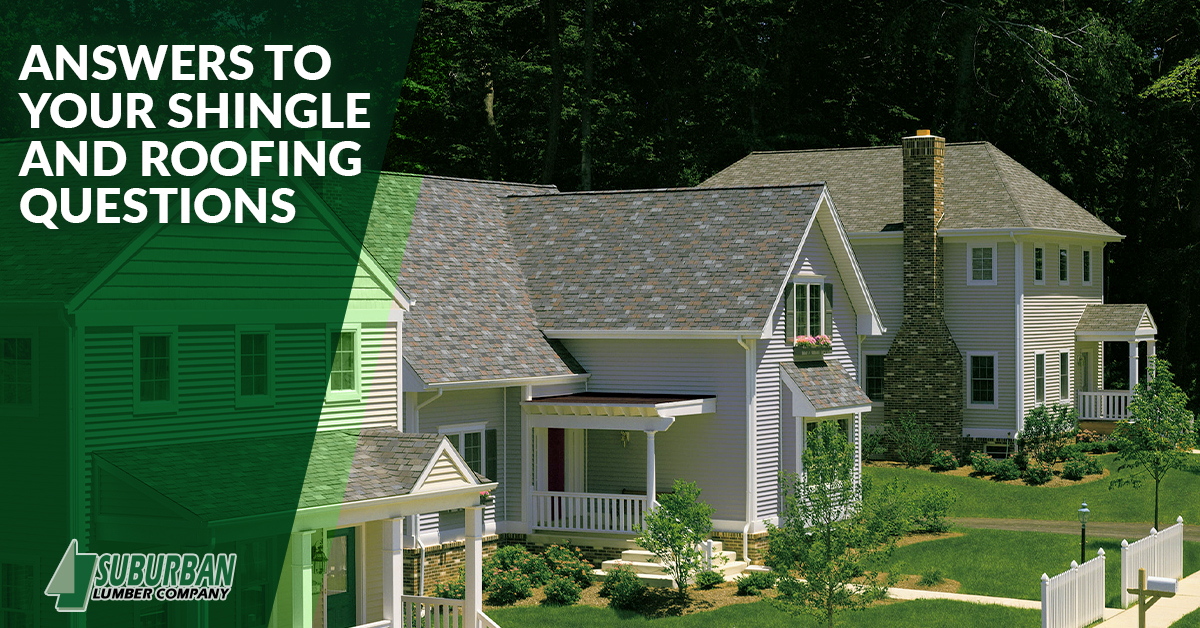 Material shortages have affected builders and homeowners in the past year, and the most sought after products in our area have been shingles and roofing materials. Four months after the April hail storm came through Cedar Rapids and Marion, our area was hit by the devastating derecho. Some homeowners sustained extensive roof damage from both storms and had to file two separate insurance claims. There are many homeowners and businesses in our community who are still waiting for repairs or an entirely new roof. In addition to stocking as many shingles and roofing materials as possible, we have answered a lot of questions about asphalt shingles and roofs over the past year—so we wanted to share some of those answers with you!
How do I match a new shingle roof with my house's siding?
Obviously everyone's taste differs, but there are some general guidelines based on "complimentary colors," which can help you narrow down your color options. While the color of shingles you choose won't affect how well they protect your home, it can have an impact on your home's curb appeal and resale value—after all, your roof can make up 40% of your home's visible exterior.
Once you have a general idea of the type of color you want for your new roof, you will be able to sort through the different shades to find the perfect match. Starting the process with a general color in mind will help save you time!
How long do asphalt shingles last?
Top shingle manufacturers now offer a Limited Lifetime Warranty on their products. All warranties are different and can be difficult to understand, so read all of the details on the manufacturer's website and contact them with specific questions. Most have a warranty or technical services department that can help you understand your specific product coverage.
There are a few factors that can contribute to your roof's lifespan but the two main factors are the quality of materials and the quality of installation. You can be assured that at Suburban you will always get quality materials and with our network of trusted contractors we can help make sure your new roof is installed the right way.
What are asphalt shingles made of?
Asphalt shingles have been around for a long time, but haven't changed much over time. Asphalt shingles are a great efficient roofing material that are easy to manufacture, so they're difficult to improve on.
Asphalt shingles start with a "base mat" of organic fibers or fiberglass. This mat is sprayed and then soaked in asphalt to completely saturate the mat fibers. After drying and cooling, the mat is covered in small granules that help make the shingles more durable and give shingles their color. At this point the granules are embedded in the asphalt and the mat is fully dried and cooled before being cut into shingles.
What makes different product lines of asphalt shingles different?
While asphalt shingles have been around since the beginning of the 20th century and the process of creating them hasn't changed much, the advances in technology over the last 100 years has allowed manufacturers to create specialty shingles. Some of these include impact and wind resistance shingles, which protect against hail and winds that reach speeds up to 150 miles per hour! There are also algae resistant shingles as well as shingles that reflect direct sunlight in order to keep your home cooler.
When purchasing shingles, you should be asked some questions about your home and roof in order for the salesperson to determine if you could benefit from specialty shingles.
So where do I start?
Start at Suburban! Even if you're not ready to make a purchase, we can help walk you through the process and you can even take home a sample of a shingle color you like so you can see what it looks like next to your siding. Give us a call, contact us online or stop in and visit our showroom!
Other Topics You May Like: