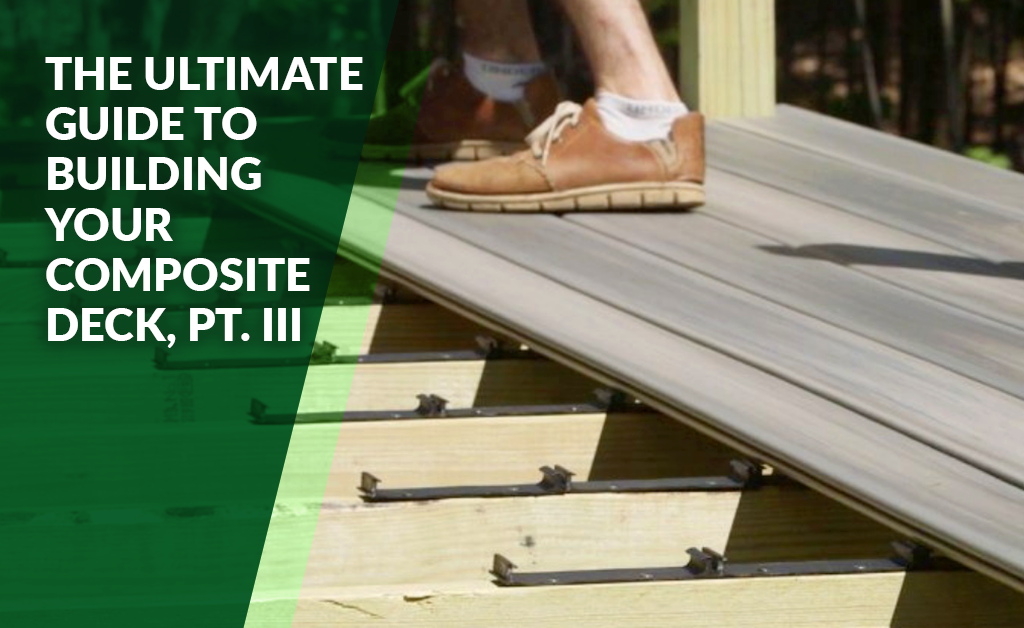 Installation Do's & Don'ts
DO Take Safety Precautions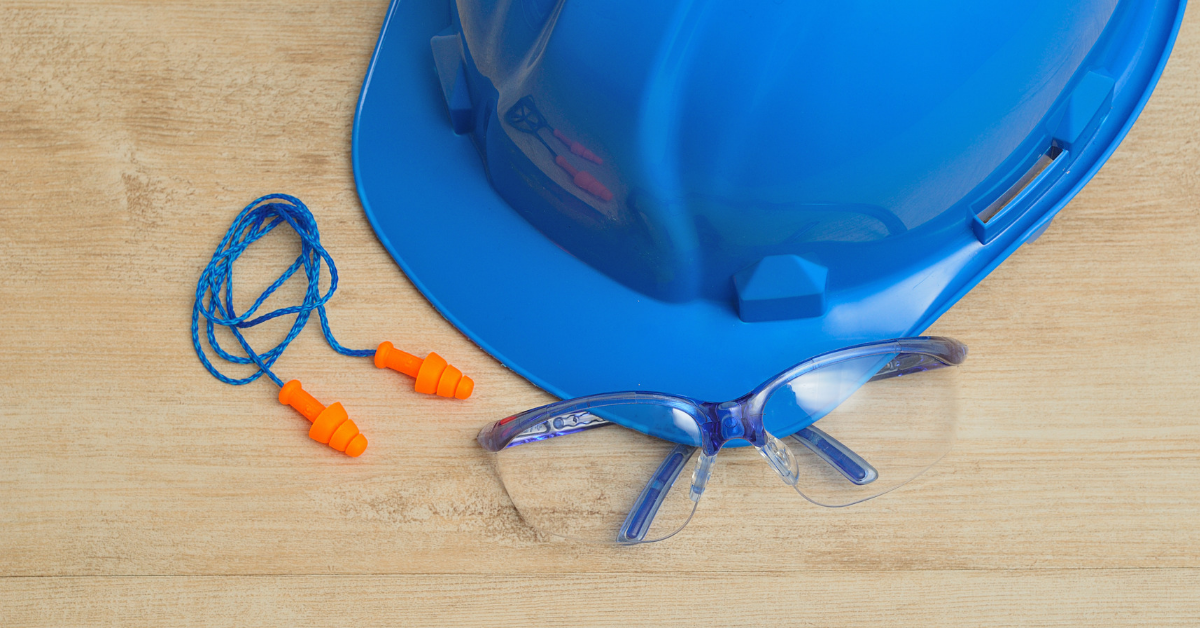 Although it goes without saying, wear safety glasses throughout the build to keep dust and debris out of your eyes. A thick pair of work gloves will also give you another layer of defense. Hearing protection is often overlooked, but don't skip out on it—even a cheap pair of foam ear plugs can help guard against hearing loss and tinnitus. Finally, don't forget to stay hydrated!
DON'T Stray from the Manufacturer's Instructions
When installing your deck, follow the manufacturer guidelines to a T for a safe and successful installation.
Veering from these guidelines can result in poor product performance and may even void the product warranty. Similarly, you should take equal care to follow applicable local building codes.
⇒ Get TimberTech's Installation Guide here.
⇒ Get DuraLife's Installation Guide here.
Be sure to read the instructions all the way through before you begin.
DO Take a Lesson from Video Examples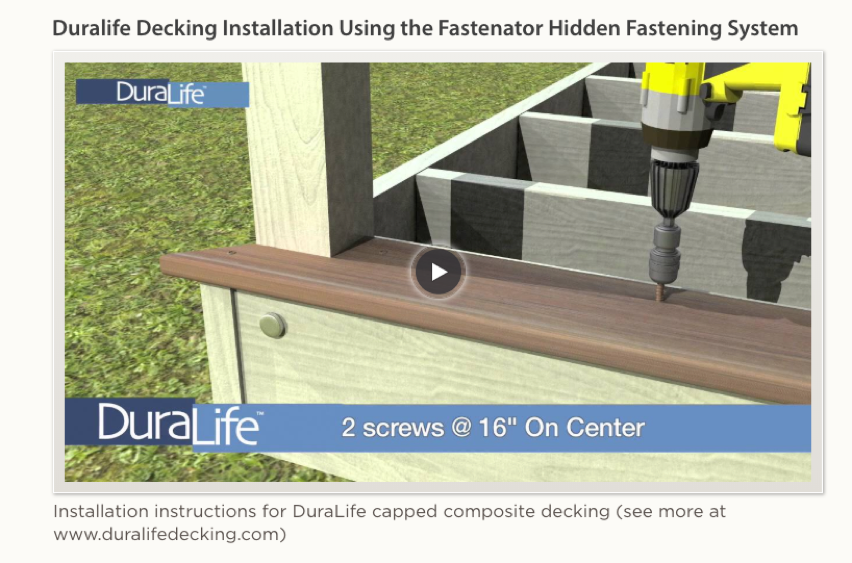 Instructional videos can help you get a better grasp on the written instructions and help you avoid common mistakes—but not all videos are created equally. While it's tempting to turn to a familiar site like YouTube for help, stick to content created by the manufacturer to make sure you're getting quality advice tailored to the specific products you're using.
⇒ Watch TimberTech's demo videos here.
⇒ Watch DuraLife's demo videos here.
DON'T Skip Inspections
If you're building your deck in Linn County, you'll be responsible for coordinating the required inspections for each phase of work:
A post foundation inspection to be completed after postholes are drilled and before concrete is poured.
A framing rough-in inspection to be completed before floor boards are installed. (Decks more than 48" above grade can complete this step as a part of the final inspection.)
A final inspection to be completed before you can begin using your deck.
You will need to call for your inspections at least 24-hours in advance. If you fail your inspection, your inspector will give you a list of items that need to be corrected before you can arrange another inspection.
Skipping inspections won't save you time or money. Just like skipping your permits, it will only create headache for your down the line—you could be charged a fine and could even end up having to rebuild all or part of your deck.
⇒ See Linn County's inspection requirements here.
DO Ask for Help
If at any time you need extra manpower to help with your project, or if for any reason you think it's best to hand the job off onto a professional, contact Suburban Lumber and we'll put you in touch with a trusted local contractor to step in where you leave off.
⇒ Reach Suburban Lumber at 319-362-3115.
Maintenance & Cleaning
Regular Maintenance & Prevention
Just like a wood deck, your composite deck should be swept and rinsed regularly to keep it looking at its finest, clear debris that could create a tripping hazard, and prevent rocks and twigs from getting caught under your feet and scratching the surface of your deck.
Activities like moving large metal patio furniture can also lead to scuffs and scratches, but you can avoid these marks by placing outdoor furniture pads underneath the legs and surfaces of tables, chairs, planters and other accessories.
Cleaning & Stain Removal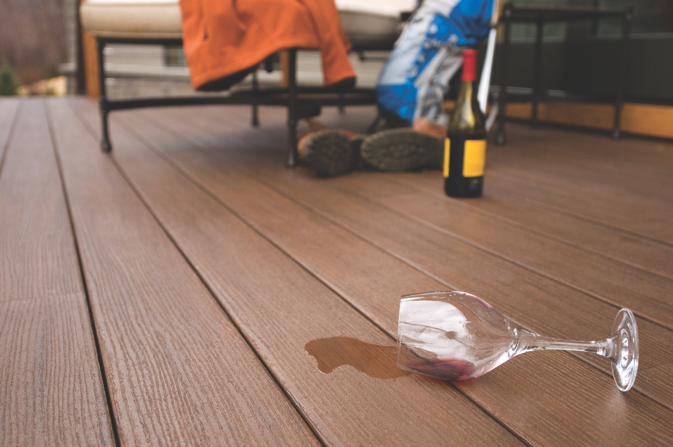 To avoid staining your deck, clean up and spills with a soft, damp cloth or sponge and rinse with water as soon as they happen.
For routine cleaning to keep your deck looking fresh, be sure to use products made specifically for composite decks. Before using any cleaning product on your deck for the first time, read the instructions thoroughly and test the product on a piece of scrap board to check for surface damage. If you have pets or children, it's a good idea to let the deck dry completely after cleaning before using it again.
Winter Weather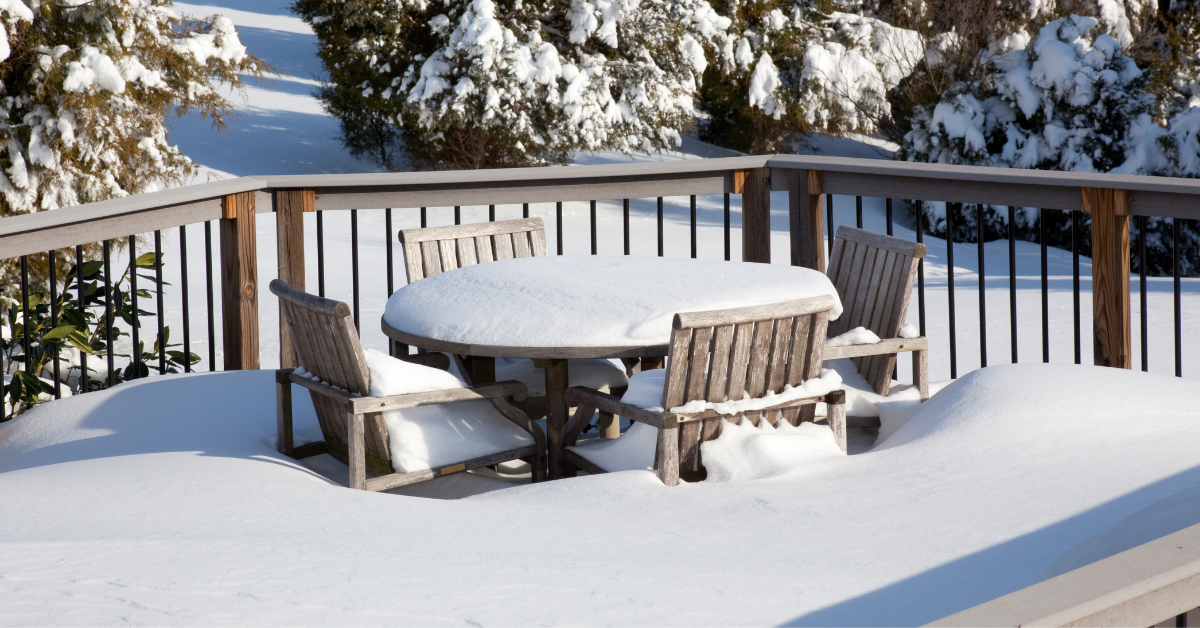 In Iowa, ice and snow are an inevitable part of winter. In anticipation of the year's first snow fall, sweep your deck and give the surface a good cleaning, making sure spaces between boards are free of debris that could block water from escaping.
As snow begins to accumulate, you will want to keep any walkways and points of access clear. If the snow is light, you may be able to use a snow blower or broom to clear the deck. But for thicker snow that requires shoveling, use something with a plastic blade (avoid shovels with a metal edge) and push parallel to the boards to avoid damaging your deck.
Rock salt and other snow-removal products made with calcium chloride are typically safe to use on your composite deck. It's possible these may leave a white residue, however, this can be rinsed off with a hose or cleaned using your regular deck cleaner. Be sure to avoid products made with sand, as these can lead to surface scratching.
Making Repairs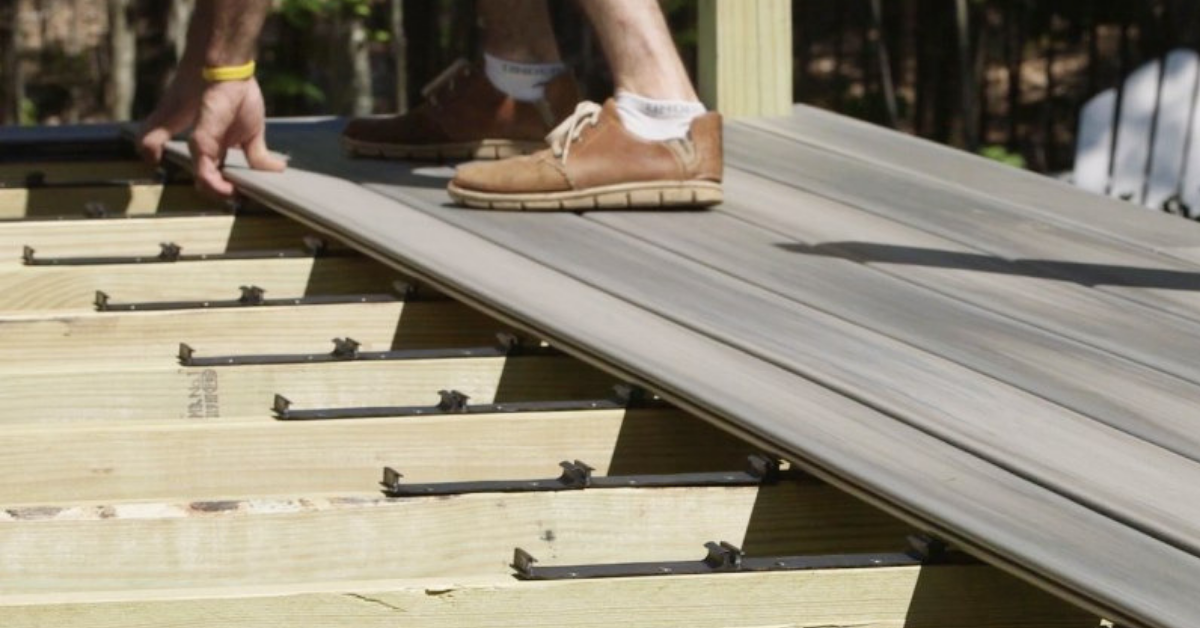 Composite decking is built with durability in mind. But any deck is susceptible to damage due to mother nature and human nature—whether it's made of wood, composite materials, metal or PVC.
Minor scuffs and scratches on composite deck boards will go away on their own over time. For deeper scratches, a heat gun can be used to carefully blend the surface. And for even deeper gouges, boards (or sections of the damaged boards) can simply be replaced with new ones.
⇒ Watch DuraLife's Maintenance Tips video here to learn how to clean your deck and replace damaged boards.
Read More:
The Ultimate Guide to Building Your Composite Deck, Pt. I
The Ultimate Guide to Building Your Composite Deck, Pt. II: Pre-Installation