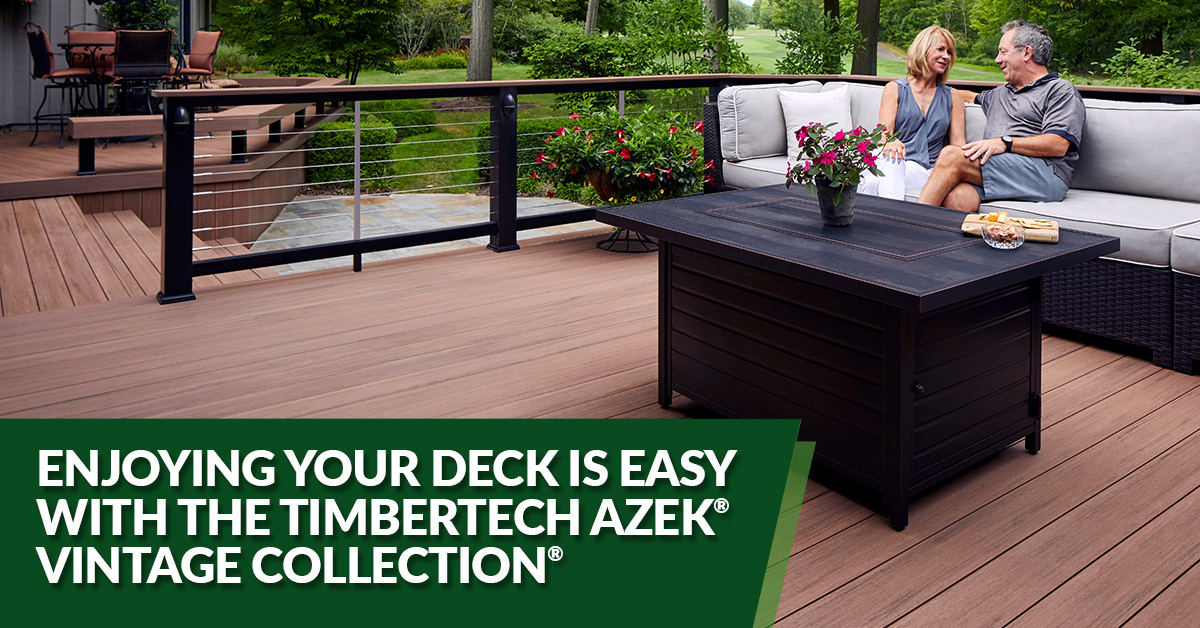 pictured: Vintage Collection® English Walnut
It's finally starting to feel like deck season and homeowners are preparing their outdoor spaces for summer fun. If you've ever had to clean, stain, and seal a wood deck, you know how much work it can be. And if you don't clean, stain, and seal it for a few years, the lifespan of your deck will decrease.
Improved aesthetics of your outdoor living space and low maintenance are the top two reasons synthetic decking is one of the most popular materials we sell. These synthetic materials include composite and polymer decking. Both are made from upcycled plastic that would otherwise end up in a landfill. Using synthetic materials is the key to the extended lifespan of polymer and composite decking and why these materials require much less maintenance than wood decking.
There's a large variety of quality composite and polymer decking options available. One of the most popular lines of polymer decking that we sell is the TimberTech AZEK® Vintage Collection®.
THE look:
The Vintage Collection® from TimberTech AZEK® is made with advanced technology that can create authentic, natural-looking colors with a wire-brushed, low-gloss finish.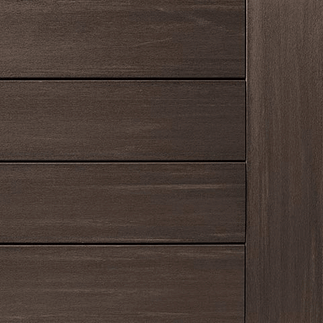 And you never have to worry about the natural look and colors fading because TimberTech AZEK® uses a coating called Alloy Armour Technology™, a proprietary alloy blend that improves colorfastness and provides UV protection. AZEK offers a 50-year limited fade and stain warranty to back up these claims.
Since polymer decking doesn't include any organic materials, it will never rot like natural wood, and it resists mold and other moisture damage.
THE FEEL:
Early versions of composite decking would retain heat which could cause issues on those scorching summer days. But over the last few decades, with advances in technology, the heat retention of synthetic decking has declined dramatically. On top of that, the TimberTech AZEK® Vintage Collection® can be up to 30 degrees cooler than many competitors' composite products—which is a good thing when it's 95 degrees in the middle of July. The Vintage Collection® also takes the lead in slip resistance, as it's 40% more slip-resistant than competitors' composite decking.
The Next Level:
If you like the look and ease of TimberTech AZEK® Vintage Collection® offers, you'll want to take a look at Westbury® Aluminum Railing! Westbury® is a product where beauty meets strength and elegance meets distinction. Whether you are looking to add a railing to the front of your home or to your deck, you will appreciate this railing. Their lines offer a variety of designs, colors, and textures. At Suburban Lumber, we stock Westbury's Tuscany and Verticable in both level and stair rail sections. A Verticable railing with cable infill is an option that looks great, opens up the view from your deck, and shows off the beauty of the Vintage Collection for those looking from off your deck. Whether you go with the Tuscany or the Verticable, homeowners will love the classic look and durability, and contractors will love the ease of installation!
To upgrade your old deck or build a new one with the TimberTech AZEK® Vintage Collection®, you just have to call or stop in and visit our expert staff at Suburban Lumber. We look forward to answering your questions, providing samples, and offering contractor referrals from our trusted network. Stop by our showroom, give us a call, or contact us online.

Learn More About Decking: