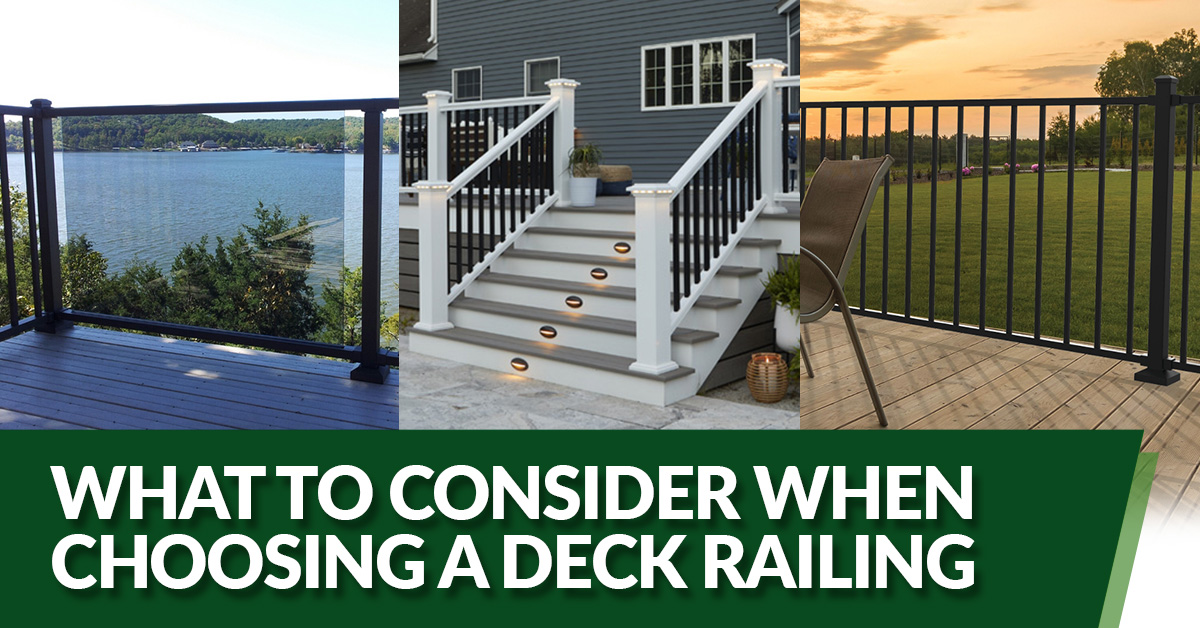 When most people start on a deck project, they focus on the deck boards and which material to use. But there's a lot more to a deck than just the type of lumber or composite you choose. In fact, one of the most visible parts of a deck is the railing. In the past, most deck railings were made from the same material as the deck boards but that's not the case anymore. This new trend allows you to give your deck a whole new look by simply upgrading the railings. But before you replace your old railings or pick out railings for your new deck, let's go over some of what you'll need to consider when selecting deck railings.
Materials to Consider:
When determining the type of railing for your deck, start with the type of material. You have a few options to choose from—assuming you want to avoid the maintenance and rot issues that come with natural wood railings.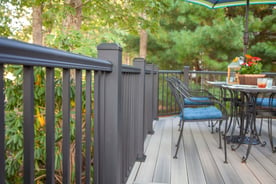 Aluminum: Aluminum railings have become the most popular railings we sell—and for good reason. Aluminum is lightweight, extremely durable, never needs to be stained or painted, and won't rust. It's also trending because aluminum railings have a sleeker, more modern look. This sleeker profile also provides a more open view of the surroundings while you relax on your deck.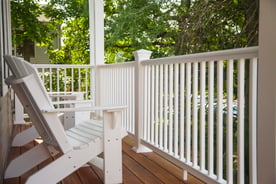 Composite: This type of railing is made from sawmill wood waste and recycled plastic. While some wood is used in the creation of composite railings, this doesn't mean it will look like natural wood. The reason some people choose composite or PVC railings is because of their larger profile. While composite and PVC provide a similar aesthetic, composite is a sturdier material and over time won't show that wear that PVC does.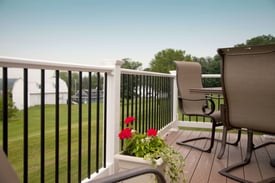 PVC: PVC (polyvinyl chloride) is a type of vinyl and because it's made out of synthetic materials, it's more durable than natural wood and requires less maintenance. PVC often comes with a lower price tag than aluminum or composite—but that doesn't always mean savings in the long run. With the temperature extremes we get in Iowa, PVC will be less durable than aluminum or composite.
Style and Color Considerations:
While there's no accounting for taste, we can help you narrow down your color options based on your own personal style and your home's color palette.
What's Your Style and What's Your Home's Architectural Style?
None of our advice on color and style is written in stone and in the end, you should choose what looks good to you—but we can tell you some of the trends we've seen.
If you want a more sleek, modern look you'll want to take a look at black aluminum railings. Aluminum will have a sleeker profile than other materials and the black color adds a modern touch.
If your home's style is more traditional, you might want to consider clean, white, composite railings that feature a fuller look. The white color will go with almost any home and the larger profile of composite can make it look like you always have newly painted wood railings.
Contrasting or Complementary Colors?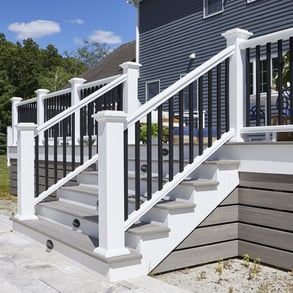 When determining railing colors, you'll want to start with your home's color palette.
If you want a cohesive aesthetic, consider complementary colors that work with your home's design. Darker color palettes work well with black, bronze, or dark brown railing while light color palettes can be complemented by white, gray, or tan railings.
Want a look that stands out? You could also choose a contrasting color for your railings. Consider white, gray, or tan if your home has a darker color palette or black, dark gray, or a darker brown to contrast a lighter color palette.
Balusters and Infill: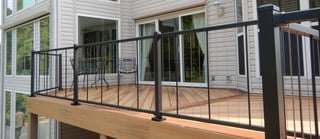 Infill is the space between the top and bottom rails of your deck. Traditionally, infills for deck railings have been made up of balusters (the vertical pieces that support the top rail).
But that's not the case anymore. Balusters are still the most common infill option but there are some more unique options—especially if you're looking for a sleeker, modern look.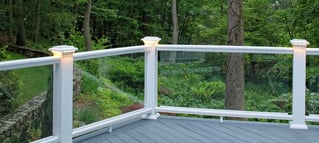 The two most common, non-baluster infills are cable and glass. Both look sleek and clean and place a premium on an unobstructed view of the surroundings. Obviously, glass would require cleaning to maintain the clean, sleek look. If you want that clean and sleek look without the maintenance, check out Westbury's Verticable railings.
Deck season is right around the corner—so now is the time to make decisions about your new or upgraded deck. Our expert staff at Suburban Lumber can help you pick out the perfect railing to fit your style. Just stop by our showroom, give us a call or contact us online.