If you purchased lumber in January of 2020 and then made the same lumber purchase in January of 2021, you were in for quite a surprise. Since April of 2020, the cost of lumber has increased by about 260%. And it's not just lumber—prices have increased on many other building materials as well. This has been a frustrating (and expensive) experience for contractors, do-it-yourselfers, home builders, and homebuyers. Unfortunately, this is a complex problem with many moving parts, which means these price increases may continue for a while longer.
We're here to help explain what's causing the spike in prices and what we are doing at Suburban Lumber to continue to provide materials while remaining budget conscious.
Why Are Lumber and Materials Cost So High?
The simple answer is that the demand for lumber and building materials outpaced the supply. The longer answer involves a pandemic, supply chains, natural disasters, a need for more outdoor gathering spaces, and people with a lot of extra time on their hands for home upgrades.
Demand:
When the pandemic hit the US in March of 2020 many people were stuck at home with extra time and money on their hands from no longer taking vacations and going out to eat. In addition, decks, gazebos, patios and other outdoor living spaces became the only way many people could interact with those outside their "bubble." As the pandemic wore on through the summer and fall, interest rates dropped, making it appealing for potential homebuyers to get a low-interest mortgage loan. This led to a boom in home building, creating even more demand for materials. This demand was only compounded by a series of natural disasters across the country that all required materials to rebuild. These disasters included the derecho in Iowa, fires in the Pacific Northwest, ice storms in Texas, and hurricanes in the southern US.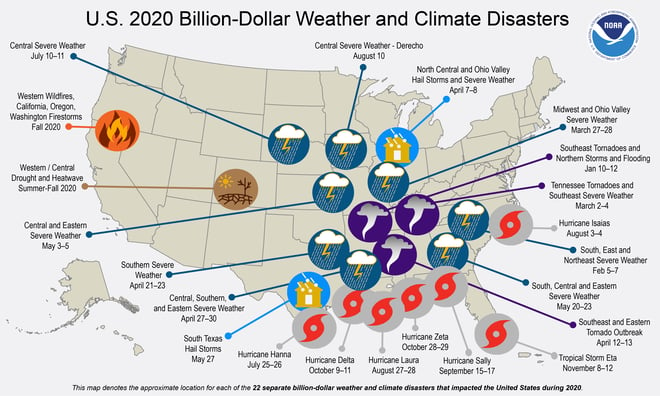 image from Climate.gov

(Click on the image to read the full article about natural disasters in 2020)
Supply:
While all of the elements above increased demand, supply was being overwhelmed by other factors. The supply shortage began as the pandemic took hold and sawmills began to slow production in anticipation of an economic downturn. Lumber production was cut by nearly 30% in March and April of 2020. The ripple effect from decreased production limited supply chain capacity, making it difficult to quickly increase production to keep up with demand.
At the same time production was slowing, more and more people began buying up these limited materials for home remodeling projects. Then interest rates began falling, which caused a surge in homebuilding. By the time the lumber and building material industry returned to full capacity over the course of the fall of 2020, they were playing catch up. As more natural disasters hit and COVID surged over the winter and into 2021, production slowed and prices and delays increased again. You can see these ebbs and flows play out within the price of lumber on the commodity markets over the past year.
How Is Suburban Helping Customers During This Shortage?
There's no easy fix to such a complex problem and Suburban's role in the supply chain puts us in a similar position as our customers. But we've called Cedar Rapids home since 1958 and are doing whatever we can to reduce the pressure this shortage has put on our customers. With our long history and experienced purchasing team, we have been working for months to leverage our long-standing relationships with manufacturers and suppliers to secure and stock the necessary materials. While we can't make specific promises about specific materials, we can assure you that we are always working to get our contractors and residential customers the materials they need while also trying to keep prices as low as possible. Give us a call, contact us online or stop in to meet our team, to discuss your project, budget and material needs. Let our team of experienced professionals help you secure those roofing, siding, decking, or other building materials to keep your project moving forward.
Other Topics You May Like: