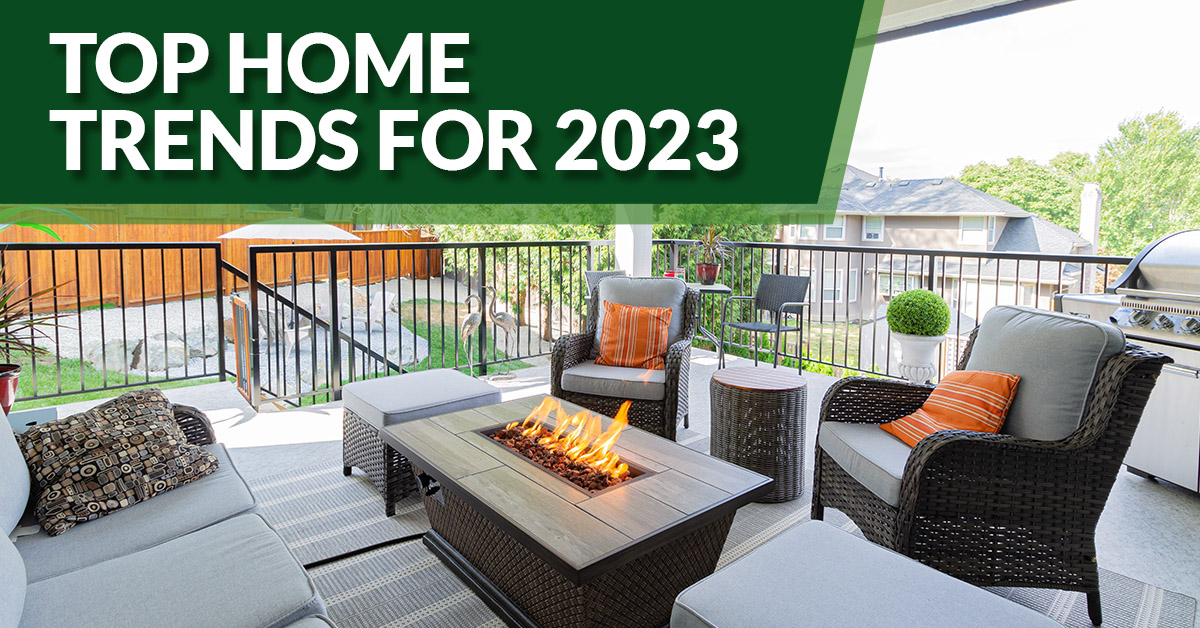 Experts speculate that comfortable spaces with functional elements will be a major theme in 2023. Additionally, homeowners are prioritizing the cost-savings of energy efficiency and sustainability—meaning there may be an uptick in products like solar panels, "smart" appliances, and eco-friendly materials.
Inspired Interiors
Home offices will be a focus for many homeowners in 2023. Businesses are offering remote and hybrid positions more than ever before—and gone are the days of makeshift desks with just enough space for a monitor. Employees will want functional and intentional home offices that inspire focus and productivity.
This could be as simple as repurposing an extra bedroom to provide a designated space. Others might renovate entire areas or add inspiring elements like Marvin's Skycove®, which allows homeowners to enjoy the beauty of the outdoors from the comfort of the indoors.
Another projected trend involves updating general aesthetics, like doors, countertops, cabinets, light fixtures, or hardware. Depending on budgets and desired outcomes, this could range from a fresh coat of paint to fully custom cabinets with built-ins that hide appliances.
Entryway trends will include wider doors, like double doors or single doors with a greater overall width. Bold colors and glass elements will help any style of door to stand out and add character to a home.
Outdoor Dwellings
Transforming traditional outdoor spaces into multi-purpose hangouts is a trend that continues to increase. With endless options and combinations, homeowners have the power to create an outdoor space that is perfect for them—whether the perfect party spot or a relaxing escape.
To accommodate these trends, decking brands like TimberTech have begun creating high-quality outdoor furniture with longevity in mind. Available in multiple colors, The Invite Collection by TimberTech + Loll Designs is wind, water, and weather resistant. Outdoor throw pillows, cushions, and dishware can be mixed and matched for the perfect finishing touches.
Those looking for a custom and controllable outdoor experience might prefer innovations like the Cabana X—a durable powder-coated aluminum cabana with lights and remote-operated louvers that adjust shade levels. The Cabana X is a great addition to any backyard pool or firepit and can be customized with enhancements, such as a foldable day bed, paneled walls, curtains, and more.
Styles and Colors
Better Homes & Gardens predicts that rich, warm hues will be a popular choice for interior paint, furniture, and décor in 2023—ranging from cozy browns to deep reds and greens.
Homeowners will seek to create calm and balanced environments with multiple uses in mind. For instance, kitchens are a place to help your child with their homework just as much as they are a place to cook and eat. Similarly, bathrooms aren't just places to bathe or brush your teeth but also spaces for relaxation, rejuvenation, and self-care routines.
Regardless of your personal styles and preferences, Suburban Lumber can help you get started on your next project. Stop by our showroom to see the latest products from leading brands and speak with our experts!
Sources:
https://www.thespruce.com/2023-renovation-trends-6831115
https://www.bhg.com/2023-interior-design-trends-6751051
https://www.bhg.com/decorating/lessons/basics/home-decorating-ideas-to-create-a-soothing-environment/