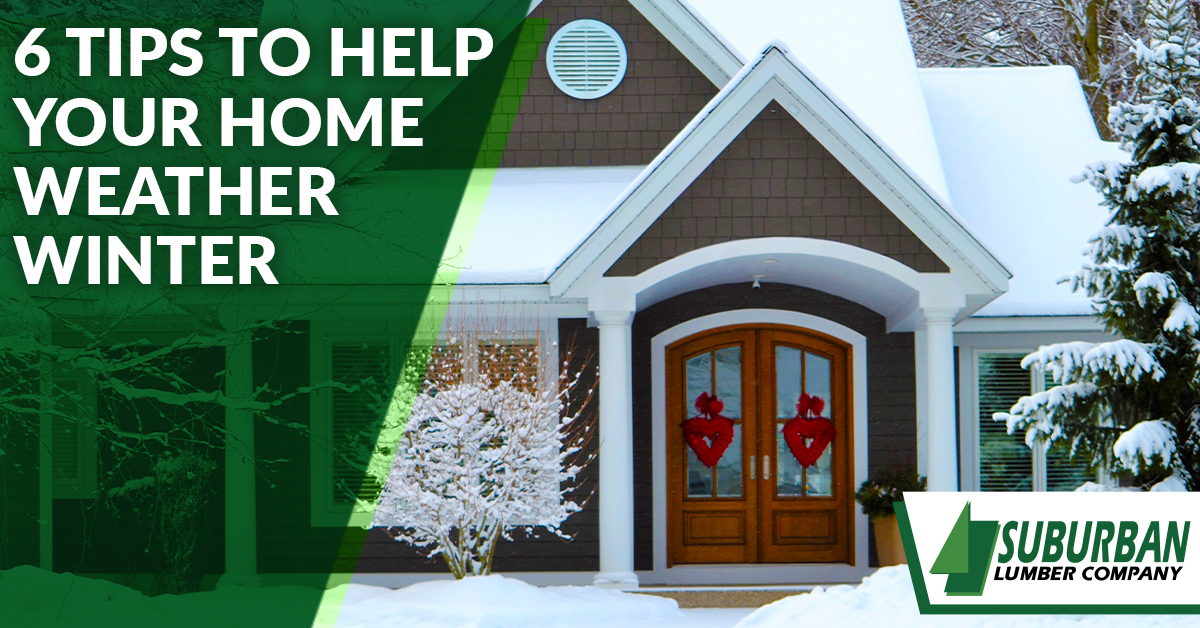 We've already seen some flurries in the air and with temperatures regularly below freezing, it won't be long until we find ourselves in the middle of another Iowa winter. The good news is that your home protects you from the worst of the elements—and to make sure that it continues to do so, we have some tips to prepare your home for winter. These tips will make for a more comfortable home, save you money, and make sure your home will protect you for winters to come.
Turn off exterior faucets

Hopefully you disconnected your outdoor hoses before the temperature dropped below freezing. For the same reason you disconnect your hose—so the water doesn't freeze and in turn freeze the water inside your pipes—it's a good idea to get any remaining water out of your exterior faucets. Even if you disconnected your hose, there will still be water left inside the faucet line. To prevent that water from freezing inside, simply find the valve to turn off the water, then go back outside and open up your exterior faucet until water stops draining out. Then you can close the exterior faucet and turn your water back on.
Check Your Roof

Your roof is essential to protecting your home throughout the winter. To make sure it's shipshape before the first major snowfall, you'll want to look for any missing, damaged or bent shingles. While you're looking at your shingles, also check the flashing that provides a seal around your chimney, vents, and anything else that comes out of your roof. If you spot a potential problem on your roof, make sure you call a professional to come out and repair it as soon as possible.
prevent ice dams by checking attic insulation

Ice dams and icicles hanging off of your roof are signs that heat from your home is traveling through your attic and warming up your roof. This is why icicles and ice dams form—the snow on your roof melts from the heat escaping into the attic or crawlspace, and then when it gets to the edge of your roof where there's an overhang (with cold air underneath), then the melted snow refreezes as ice. You can get out the ladder and try to chip away at ice dams that are formed or even get a roof rake to remove the snow from your roof before it melts and turns into ice. But those options are just treating the symptoms. To get at the root of the problem, you'll need to better insulate your attic or crawl space. There are a number of ways to do this, so you'll want to do some research on your options and ask questions before buying additional insulation.
get a furnace tuneup

For around $100 you can get an HVAC technician to come out to clean, check, and tuneup your furnace. Not only can it prevent your furnace from going out in the middle of the winter—which would result in a costly emergency service fee—a tuneup can also help your furnace run better for longer—which provides long term savings.
Make sure your gutters are debris free

Your gutters help collect water from your roof and funnel it away from your home's foundation so the water doesn't creep into your basement. But if your gutters are full of leaves and other debris, water will run off your roof and end up running down the side of your home. If you normally have a lot of debris in your gutters, you'll want to think about gutter guards that are installed like protective screens that allow water to flow through and into your gutters but not larger debris.
Deal with drafts

Walk around the exterior of your home and make sure there are no gaps larger than the width of a nickel between your window and door frames and your home's siding. If you find any gaps where the sealant has deteriorated, you can reseal those spots with a silicone caulk, which is highly flexible, durable, and water and temperature resistant. After doing this, you should check your exterior doors to make sure you can't see any light or feel a draft coming from between the door and the frame. If you find any spots like this, apply weather stripping to seal out that draft.
Don't hesitate to ask our expert staff

At Suburban we pride ourselves on our knowledgeable and experienced team. Our expert staff members are ready to help you with any questions you may have—no matter your level of experience. Give our team a call or stop by our showroom.