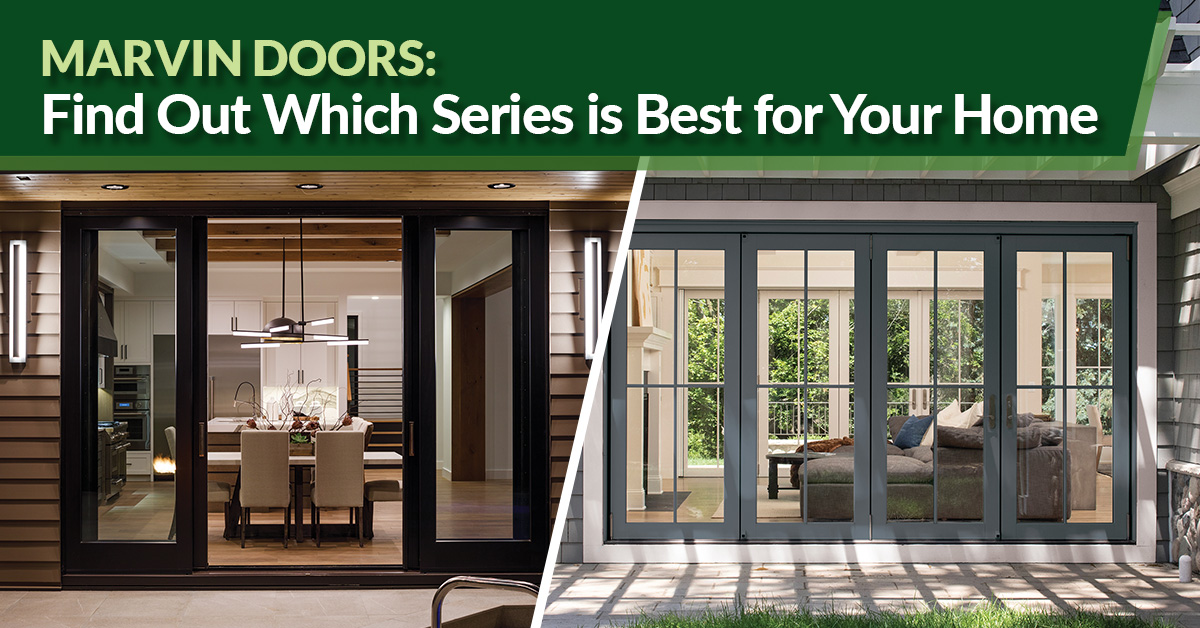 Are you looking to enhance the beauty, functionality, and accessibility of your home's doors? With three distinct series to choose from, Marvin has created numerous high-quality product lines that fit a variety of needs and preferences. Let's explore how each collection stands out and why they are worth considering for your next home upgrade project.
Marvin Signature® Collection
The Marvin Signature® Collection sets the bar high when it comes to design versatility, architectural precision, and exceptional aesthetics.

Signature Ultimate
Crafted for those who demand excellence in every detail, Marvin Signature® Ultimate doors are available in an extensive selection of shapes, styles, and sizes, with a range of wood species, stains, and paint options for your perfect look and feel. This product line caters to various architectural styles, allowing you to create truly exceptional spaces.
Signature Ultimate Doors:
Sliding French Door
Sliding Patio Door
Swinging Arch Top French Door
Swinging Narrow Profile Door
Wood Swinging French Door
Swinging French Door G2
Bi-Fold Door
Commercial Door
Life and Slide Door
Multi-Slide Door
Marvin Essential™ Collection
For those seeking a detailed offering without compromising on quality, the Marvin Essential™ Collection is the perfect choice. Made with fiberglass on both the interior and exterior, these windows and doors offer impressive durability with the convenience of low maintenance.

Marvin's leadership in fiberglass technology ensures that Essential doors are stable in extreme temperatures, making these windows stand strong even in the harshest conditions. Featuring streamlined details and versatile styles, the Essential™ Collection makes it easy to meet project demands while maintaining a sleek and modern aesthetic.
Essential Doors:
Marvin Elevate® Collection
Combining enduring style with unmatched performance, the Elevate series offers the best of both worlds. With warm wood interiors and fiberglass exteriors, these products excel in aesthetics and strength. Marvin Elevate® products don't just offer warm wood interiors and trendy styles; they're designed to be a statement piece in your home while seamlessly blending with your decor. With eight times the strength of vinyl and three times the strength of vinyl/wood composites, Marvin's proprietary fiberglass ensures long-lasting performance. It resists fading, chalking, peeling, and cracking, making it an ideal choice for various climates.

The newest product in the Marvin Elevate® Collection is the Elevate® Bi-Fold Door, which just launched in February 2023. With a wood interior and Ultrex® fiberglass exterior, the Elevate® Bi-Fold is both beautiful and durable. The door glides and stacks open, welcoming maximum airflow and a seamless transition between your home and the scenic outdoors. Even when closed, it is designed to fill your home with natural light and offer a great view.

Elevate Doors:
• Bi-Fold Door
• Sliding French Door
• Sliding Patio Door
• Swinging French Door

Are you ready to transform your living space and upgrade your home with new doors? Visit the experts at Suburban Lumber to explore Marvin products and experience the innovation, quality, and design leadership that they will bring to your home.
Get Started!
Let's work together to make your home truly exceptional. Just give us a call at 319-362-3115 or stop into our showroom!