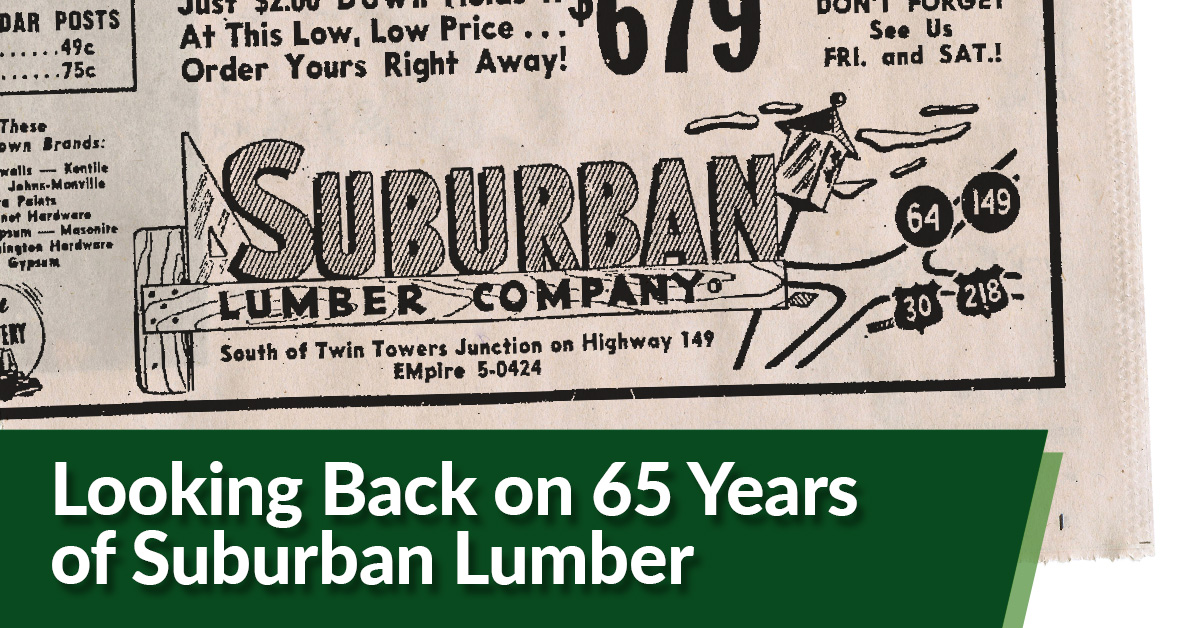 As Suburban Lumber celebrates its 65th year in business, our team has taken this opportunity to look back and reflect on the milestones, people, and community that helped get us here.
A Walk Down Memory Lane
In 1958, Suburban Lumber founders Joe Flynn and John Plotz teamed up to purchase Quaid Lumber, located on Highway 149 (which later became 2951 Williams Blvd) in what was considered rural Linn County at that time. While this address is no longer in use, it was near where Capri College stands today.
By September of that year, Flynn and Plotz were proudly inviting the community to the Grand Opening of Suburban Lumber Company. Their newspaper advertisement included a long list of building materials—including asphalt shingles, slat corn cribs, garages, and more!
In its first year of business, Suburban Lumber landed a job supplying drywall for a big commercial project: the Town House Motor Inn. This project contributed to the company's whopping first year with $360,000 in sales.
A Close Call
Unfortunately, in the first few years of business, a faulty gas heater caused a fire to break out in the company's office. The flames spread into the display room but were extinguished before reaching the lumber yard. Despite being located just outside of city limits, Cedar Rapids firemen took action to prevent the fire from worsening—which likely saved the company from experiencing a total loss of inventory.
In a 2008 Gazette article celebrating Suburban Lumber's 50th Anniversary, K.C. Flynn recalled hearing stories about his father and older brother running every stoplight on the way to the fire that morning. Upon arrival, Joe Flynn ran into the office to retrieve the accounts receivable ledger, which was fortunately undamaged.
In the following months, Suburban Lumber was not only officially incorporated as a business but also hosted a grand re-opening to celebrate the newly-remodeled office and display room.
Celebrating Company "Firsts"
Starting in the 1960s and continuing through the 1980s, Suburban Lumber saw a lot of exciting "firsts" as a company.
These firsts­—including a lumberyard expansion, second-story addition to the main building, and the introduction of engineered lumber products (TrusJoist™)—were not only results of the company's growth but also contributions to its continuing success.
In 1962, Suburban acquired its first boom truck—which was also the first in the city of Cedar Rapids. The truck was useful for hauling drywall and other materials for commercial projects, which made up the majority of sales at that time.
While high-interest rates in the 1980s led to a decline in new construction, Suburban weathered the first economic storm since the company's inception. And despite the challenges, they always managed to make a profit.
Suburban celebrated its first—and so far, only—move to the former location of Payless Cashway at 2630 Wiley Blvd SW. The company officially opened for business at its current location in September 2002.
Weathering the Storm
Suburban joined the rest of the world in 2020 as everyone felt the impacts of the COVID-19 pandemic. The company relied heavily on safety enhancements, teamwork, and the dedication of its staff during this time—especially as supply chain shortages became more prevalent. These challenges were met with efforts to stock up on items in high demand and clearly communicate longer lead times for materials that were less available. With Suburban being locally owned and operated, leadership could be more flexible with employees and customers as unique needs came up, which came in handy as everyone navigated the uncertainties of the pandemic.
All of these elements came in handy yet again following the August 2020 derecho that hit the community. With speeds of 140 miles per hour, the straight-line winds took out Cedar Rapids homes, businesses, and more than 65% of the city's trees.
Suburban, like many residents and businesses throughout town, was without power for 10 days as crews worked tirelessly to restore the power grid. After regaining electricity, Suburban remained flexible with its team as employees worked to put their own homes back together while also assisting the community in doing the same.
Serving the Community
Customer and community service will always be the primary focus, and Suburban continues to give back through partnerships with Marion Economic Development Corporation (MEDCO), Kirkwood Community College, and more. Specifically, the company has been focusing on youth development and skill-building within the industry and adjacent lines of work.
This includes involvement in events like Build My Future-Explore ACE Career Day & Industry Showcase, which is an annual event hosted by the ACE Sector Board. The event aims to educate middle school students about the skilled trades, including construction, carpentry, plumbing, and more as they participate in hands-on learning labs and informational sessions.
Suburban: Where the Pros Go
As Suburban grows and expands, the company continues to narrow in on products that best serve eastern Iowa residents and homebuilders. This includes being a leader in top building trends and materials like decking and more.
We often say that Suburban Lumber has "grown up" with Cedar Rapids, and in many ways, we continue to do so. Thank you, eastern Iowa businesses, contractors, and homeowners for supporting local all these years and giving us a wonderful place to call home.