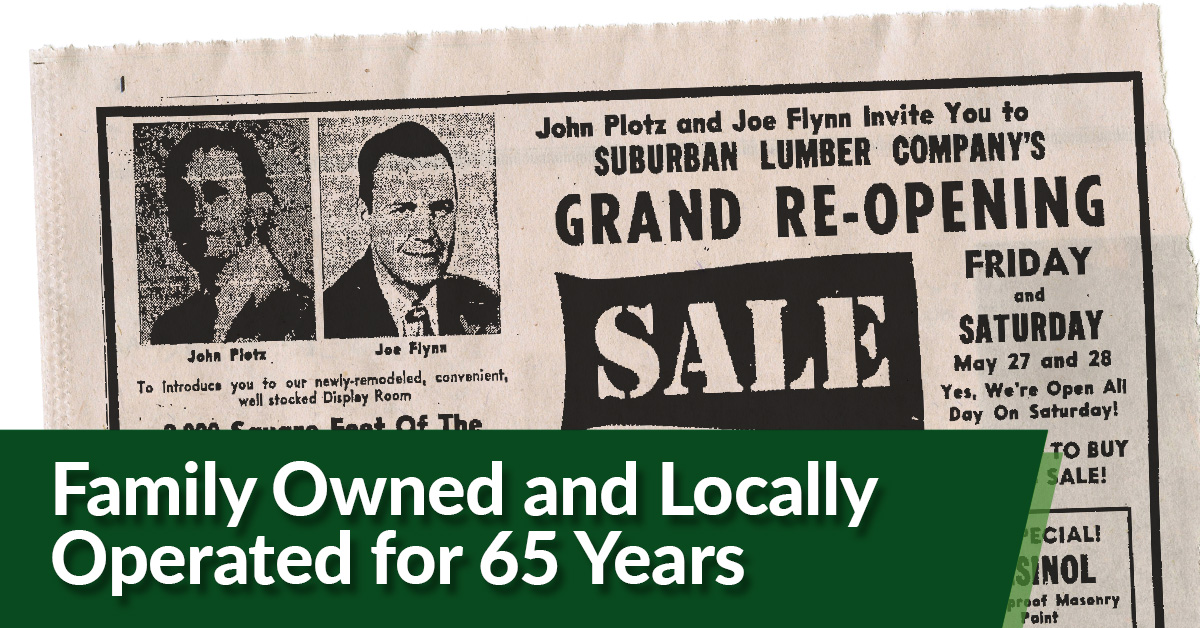 Suburban Lumber was founded as a family business and remains in the family today, honoring the strong values of family, community, and people six and half decades later.
The Founding Families
Suburban Lumber was founded in 1958 by Joe Flynn and John Plotz. The two entered a joint business venture by purchasing the old Quaid Lumber and reopening it as Suburban Lumber.
The two navigated the early years of business mostly on their own, picking up employees here and there as the year went on—many of whom spent the entirety of their remaining working years with Suburban Lumber.
Growing up alongside the business were Joe and John's children, including Rick Flynn. Rick had been immersed in the family business since he was a kid—from working at the lumberyard every summer to joining as a full-time employee at age 25. Just over a decade later, in 1980, Rick became president of Suburban Lumber.
The Second Generation
The company officially became a second-generation family-owned business, setting into motion a series of changes and advancements in the company.
In the 1990s, Joe Flynn officially retired, and co-founder John Plotz passed away. Rick bought out the Plotz family, and soon his brothers Bob and K.C. joined him in the family business.
The company purchased the location of a former competitor as Joe had predicted years prior. Suburban opened for business at the new—and current—location in September 2002.
After 27 years at the helm, Rick retired in 2007, as did Bob. K.C. Flynn stepped up as president in 2007 and lead the company for a decade before retiring in 2017.
The Third Generation
Succeeding K.C. was Rick Flynn's son-in-law, Jim McGrew. Jim married Alison Flynn in 1998, the same year that he joined Suburban Lumber as an inside salesman.
The following year, Jim moved to outside sales before becoming part owner and VP of Sales and Marketing in 2009. When K.C. retired in 2017, Jim was a natural fit to replace him—making Suburban a third generation, locally-owned and operated business.
The Suburban Family
While the Flynn family was at the foundation of Suburban Lumber, the company has built a family of its own through dedicated leadership, close-knit culture, and an unwavering commitment to quality.
This is no doubt the result of strong family values that have been upheld by each generation over the years. From operations to service, these standards exist in the showroom, on deliveries, and in every customer interaction.
We are proud to serve our eastern Iowa communities and the many families—just like ours—that have built a home within them.